Call for application
No images? Click here

Open call for application
Atelier for Arts and Production Managers Elefsina-Beirut
A three module tailor-made Atelier
Module I | 1-5 May 2020, Elefsina, Greece
Module II | Placements at festivals around the world (ongoing May – December 2020)
Module III | 3-6 December 2020, Beirut, Lebanon
The Festival Academy calls for applications for a 3-module tailor made Atelier in partnership with Drosos Foundation, Eleusis 2021, Zoukak Theatre Company Beirut and ArtLink. Arts and production managers from Albania, Bulgaria, Cyprus, Greece, Jordan, Lebanon, Palestine, Macedonia, Morocco, Tunisia, Turkey, Serbia are invited to apply by 2 March 2020!
The Atelier is organised in the framework of Act for Global Change: A Global Conversation from the Arts to the World', supported by Creative Europe under the cooperation projects.APPLY NOW
Deadline: 2 March 2020
What?
The Atelier starts from the very essence of festivals – the arts, the artist and the audience – and all issues tackled during the training in one way or another relate to this essence, why we are doing what we are doing, for who and with who. It also addresses the 'how' we do things which relates more to the production side of a festival or art event.
Each training organised by The Festival Academy is tailor-made based on the needs of the specific group taking part in the programme based on the analysis of the expectations of the selected participants. It focusses on the topics and issues formulated in the participants' application forms which are further developed and elaborated during the Atelier and relates to the context where the Atelier takes place, as such each Atelier is different.
3 Module Format
The training is set up as a long-term programme which explores all phases of programming a festival and producing an artistic work: a programme with 3 modules spread over 1 year which explores all phases and challenges in the participants' field of action.
Introductory Session – Module I |1-5 May 2020 – 5 days, Elefsina/Greece
Module I focusses on the exchange between expert and emerging art and production managers on different ways of programming and producing artistic work and arts organisations.
Placement – Module II | Ongoing between May 2020 – November 2020 (Minimum 1 week)
Once participants have completed Module I, they can move on to Module II, a placement at a high- level arts organization or festival worldwide of minimum one week.
Concluding session – Module III | 3-6 December 2020, Beirut/ Lebanon
A 3-day concluding session brings together all experiences about the development of the festival and production managers' work since Module I
Questions and topics
Different models of curating, leadership, building and sustaining audiences/ communities, innovation, the impact of art, and art organisations/ festivals, the role of arts managers and arts organization in a changing world, sustainable business models, new technologies, and many others according to the needs of the participants and the context where the Atelier takes place.
Find out more on the programme and topics here.
Who?
30 emerging arts and production managers from Albania, Bulgaria, Cyprus, Greece, Jordan, Lebanon, Palestine, Macedonia, Morocco, Tunisia, Turkey, Serbia will be selected to exchange with peers as well as with experts. This three-module programme addresses artists, cultural actors, early career arts managers and production managers or those who have ambitions to get involved in programming or producing art and art organizations. Find out more here!
Participants are guided by expert art/cultural managers, festival leaders, artists, cultural activists, and people from different fields of action such as the social, political, technological field coming from across the globe. Experts are present throughout the Atelier and share their rich experience and guide participants throughout the Atelier. Participants will also meet and exchange with several guest speakers from the region. Have a look at our pool of experts present during previous editions here.
Expected results/outcome
Capacity, skills and knowledge building within a specific region. Digital toolkits collecting the knowledge shared to distribute to a larger arts/festival community in the region.
A platform for exchange in between arts and cultural colleagues taking up different roles and coming from different regions that share similar challenges and opportunities and which are linked historically.
Generating a better understanding and knowledge of the region and the possibilities for festivals and cultural organisations.
Becoming part of a regional network of upskilled cultural and production managers and of the global alumni network of The Festival Academy counting today 699 people from 80+ countries and all continents.
Moreover, The Atelier offers time and space for imagining new collaborations with people coming from very different backgrounds, based on solidarity and incorporating fundamental universal values.
Practicalities
Fee to be covered by participants: 200 € for the 3 modules.
Participants from Jordan, Lebanon, Palestine, Morocco, Tunisia, Bulgaria, Cyprus, Greece, Turkey need to contact us at info@thefestivalacademy.eu for more details on the practicalities of the training (travel and visa costs for the 3 modules and accommodation for Module I and III will be covered by Drosos Foundation and Eleusis 2021).
Participants from Albania, Macedonia, and Serbia need to contact us at info@thefestivalacademy.eu for more details on the practicalities of the training regarding accommodation and travel. A fundraising scheme for travel and accommodation is set up with ArtLink.
Info costs placements/ Module II: Host organisations offer accommodation, local transport costs, meals or a per diem and workplace insurance.
Application & Selection procedure
The 30 participants will be selected out of an open call for application. Applicants are asked to provide information on: who you are, what your work experience is, your expectations related to the programme and – most importantly: your motivation to participate in the programme.
Selected applicants will be notified by 11 March 2020.
Upon selection participants are requested to hand in a concrete plan for an artistic project they are working on or want to develop. This is a requirement to be allowed to take part in the training.
Do you want to learn, exchange and become part of a peer-to-peer informal regional network of 30 participants and several experts from different fields based on knowledge, friendship and trust, AND become part of the global alumni community of The Festival Academy?
Do not hesitate, find out more on the programme and apply here by 2 March 2020!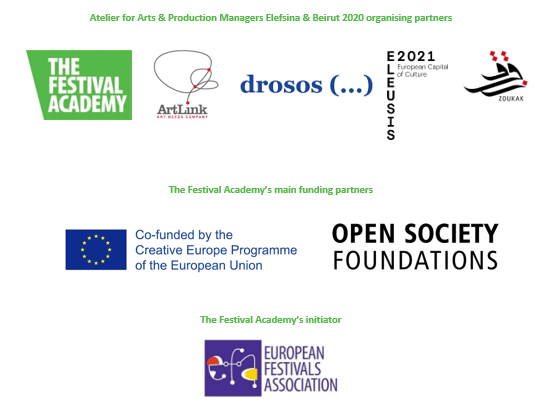 For The Festival Academy's partners have a look here.